New Hilton at The Avenues
Two SSH-designed projects are poised to be key landmarks of the countries that host them – the new Avenues Hilton Garden Inn Hotel in Bahrain, which is fast taking shape opposite Bahrain Bay, and the newly completed 300-m-tall National Bank of Kuwait in Sharq, Kuwait.
October 2020
Work on the new Avenues Hilton Garden Inn Hotel on the northern coast of Bahrain is making good progress, with the superstructure currently standing at level 22, according to SSH, which is responsible for the design and supervision of the project.
Anchoring The Avenues mall in the heart of Manama, the 197-key hotel development is destined to be a new landmark on the capital's ever-evolving skyline, thanks to its ideal location overlooking Bahrain Bay.
The hotel, accessed via the King Faisal Highway, will spread over a gross floor area (GFA) of 22,500 sq m and offer luxury accommodation, a restaurant, and business suites.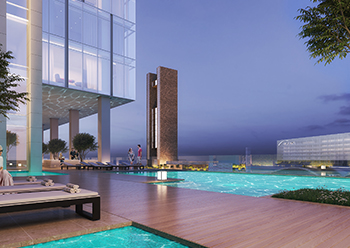 Avenues Hilton Garden Inn Hotel overlooks Bahrain Bay.
With its prominent glass and copper features, height and orientation, the Avenues Hilton Garden Inn will offer exciting views over Bahrain Bay's future corniche development.
"The project is making great progress. MEP (mechanical, electrical and plumbing) installations are ongoing, and the superstructure is currently constructed up to level 22. We are honoured to be working with our client Al Sorouh Management Company, and our team is excited to deliver an end result that will exceed all expectations," says Emyr Rowlands, Infrastructure Director at SSH – Bahrain.
Meanwhile in Kuwait, the leading masterplanning, infrastructure and project management practice has delivered the new iconic National Bank of Kuwait (NBK) headquarters building, which is gearing up for occupation.
Standing a colossal 300-m tall and covering a total floor area of 127,000 sq m, the tower boasts a distinctive presence among other high-rise buildings in Sharq, adding significantly to the city's skyline, states SSH which acted as lead consultant for construction supervision, in association with leading UK-based architectural firm Foster + Partners and leading integrated engineering consultancy services group BuroHappold.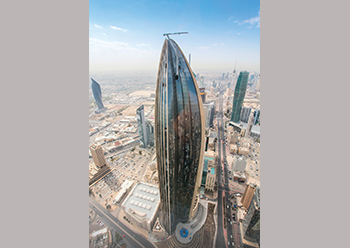 The concept for the National Bank of Kuwait tower originated from a pearl shell.
According to SSH, the tower design concept originated from a pearl shell, which is highly symbolic in Kuwait's history and heritage, culture and economy.
The main structure comprises composite concrete and steel, while the cladding on the fins and glass façades is predominantly glass-reinforced concrete (GRC).
The tower has been built with an intentional lean to compensate for its designed offset centre of gravity, it adds.
Mohammad Iqbal, the senior resident engineer at SSH, Kuwait, says: "We are extremely proud to have completed and delivered this project to our established client – not only because the end result is of such high quality, but also because it reflects SSH's professionalism, expertise and commitment toward client gratification."
Based on its energy-saving and environment preservation designs, NBK Tower is a new landmark green building built in line with LEED (Leadership in Energy and Environmental Design) Gold requirements, making it one of the first with such high certification in Kuwait and the region.
Founded in 1961, SSH is one of the leading masterplanning, infrastructure, building design and construction supervision firms in the Middle East, with a reputation for design integrity and a portfolio that includes landmark projects throughout the region.
It has offices in Abu Dhabi, Algeria, Bahrain, Dubai, Kuwait, London, Oman, Qatar, Saudi Arabia and South Africa.
More Stories