Hybrid waterproofing is green solution
May 2020
Construction Material Chemical Industries (CMCI), a frontrunner in Saudi Arabia's polyurethane-based coatings, sealants and adhesives sector for more than 30 years, has developed a novel hybrid waterproofing membrane that caters to the demand for sustainable products for green buildings.
With this product, CMCI has combined the latest know-how in polyurethane and silicone chemistry, S M Musabbar, Innovation Manager at the Dammam-based CMCI, tells Gulf Construction.
He states that polyurethane (PU) coatings have been accepted by the construction industry for more than 30 years mainly because of their elastomeric properties, tensile/tear strengths and elongation, and surface hardness. The low water absorption coupled with their tenacious adhesion to concrete and polyurethane foam substrates make these polyurethane coatings highly suitable for flat waterproofing.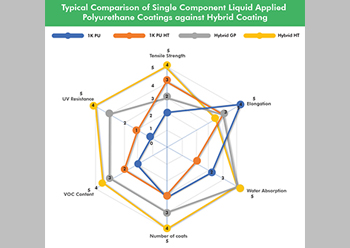 Figure 2
Being single component and ready to use directly from the pails, liquid-applied polyurethane membranes are well-positioned for waterproofing wet areas such as kitchens, washrooms, under tile areas, foundations and flat roofing, Musabbar says.
"On the flip side, however, these polyurethane membranes are produced from polyurethane pre-polymers like isocyanates, extenders, solvents, etc, the use of which is restricted/regulated by authorities such as environmental protection agencies (EPA), standards organisations, and building codes. Secondly, the wet film thickness during the application of these single-component polyurethane coatings should be minimised to avoid the formation of bubbles/air voids, etc. Hence, a number of application coats and a longer time is required to achieve the specified thickness.
"Thirdly, for waterproofing roofs that are directly exposed to weathering and ultraviolet (UV) radiation, either an aliphatic polyurethane or a combination of aromatic and aliphatic polyurethanes is used," he points out.
CMCI has, therefore, developed a new liquid-applied waterproofing membrane featuring novel hybrid chemistry – a combination of polyurethane and silicone – that offers all the attributes of the time-tested single-component polyurethane coatings while addressing the challenges they face, according to Musabbar.
Figure 1 depicts the difference between the nature of the basic chemicals present in the formation of single-component polyurethane elastomer (first chemical reaction) and polyurethane hybrid elastomer (second chemical reaction). In the first case, there are isocyanates (NCO) attached to the end of the basic chemical. The figure shows the reaction of the isocyanate in an elastomeric polyurethane membrane to the moisture present in the atmosphere. Because of these free NCOs (isocyanates, chlorinated paraffins and coal tars) – based on the level that is present in the coating – the coatings are categorised as "restricted/regulated" by EPAs. Hybrid polyurethanes do not have these NCO groups and objectionable plasticisers, extenders, coal tars.
If a building/structure has to be certified as per LEED (Leadership in Environmental and Energy Design) standards as a green building, then the impact of the coatings on the environment is studied in terms of their VOC (volatile organic compound)/TOC (total organic compound) content, as per the LEED v4 EQc 4.2 prequisite to qualify for waterproofing of wet areas. The PU hybrid elastomers are offered with high solids and solvent-free coatings which would earn LEED credits.
Another aspect is the solar reflective index (SRI), a parameter of thermal reflectivity of a roof coating, which helps achieve energy savings in a building. The single-component polyurethane coating, due to its aromaticity, changes colour over a period of time due to UV and weather exposure and results in yellowing and a reduction in its SRI. The hybrid polyurethane coating, thanks to its UV and weathering resistance, maintains thermal reflection, hence saving the energy!
Summarising the attributes of CMCI's new waterproofing product, Musabbar says hybrid waterproofing membranes have high solids with minimum amounts of VOC and are:
Free from restricted/regulated chemicals, that is, the membrane doesn't contain isocyanates, chlorinated paraffin, coal tar, asphalt, etc;
Offered in any colour – proving the membrane doesn't contain asphalt or coal tar;
Applied in a single-coat application, of even 3 mm thickness, and the coating doesn't bubble – proving that it doesn't contain free isocyanates;
Resistant to UV and weathering, hence there is no hardening, chalking, crazing or cracking of the membranes as observed in some of the aromatic polyurethane coatings;
Higher in tensile and tear strengths, with excellent balance of flexibility. These membranes are available in various dimensions of strength and flexibility. The strength can be further increased by incorporating fibre mesh, as in the case of polyurethane membranes; and
Suitable for waterproofing roofs, wet areas and foundations.
So how are single-component polyurethane-silicone hybrid roof coatings different from and better than single-component polyurethane-acrylic hybrid roof coatings ? Figure 2 shows key differences.
As per ETAG No 005, Musabbar says key features of waterproofing membranes include their water vapour permeability and water tightness. "In simple terms, this means the membrane/roof coating should have the lowest water absorption. In order to overcome the limitations of acrylic coatings that have a water absorption of about 10-15 per cent, a coating of acrylic modified with polyurethane dispersion was considered, but this hybrid only marginally improved the water absorption property," he claims.
Liquid-applied, single-component polyurethane coatings, Musabbar continues, have a water absorption of about 2 to 4.5 per cent, whereas CMCI's hybrid polyurethane coatings have a water absorption of less than 0.5 per cent!
"These novel hybrid waterproofing membranes could be a boon to the authorities, architects, consultants, and practising engineers in the Middle East who are aspiring to create green buildings, protecting people and environment," he concludes.
The new hybrid waterproofing membrane is the latest addition to CMCI's portfolio of products which includes a range of single-component and two-component waterproofing membranes featuring polyurethane, polyurethane hybrids, epoxidised polysulphide, acrylic, and polymer modified cement-based coatings.
References:
1. Polyurethane Handbook 2nd Edition by Guenter Oertel, p.571
2. LEED (Leadership in Energy and Environmental Design) v4 - IEQc4.2: Low-Emitting Materials - Paints & Coatings
3. ETAG No 005 – Guideline for the European technical approval for liquid-applied roof waterproofing kits.
More Stories